Comparing Extra Baggage Price between Traveloka VS Scoot
| | |
| --- | --- |
| Traveloka Extra Baggage Price | Scoot Extra Baggage Price |
| 40 kg – Rp. 2,020,594.00 | 40 kg – Rp. 1,158,069.00 |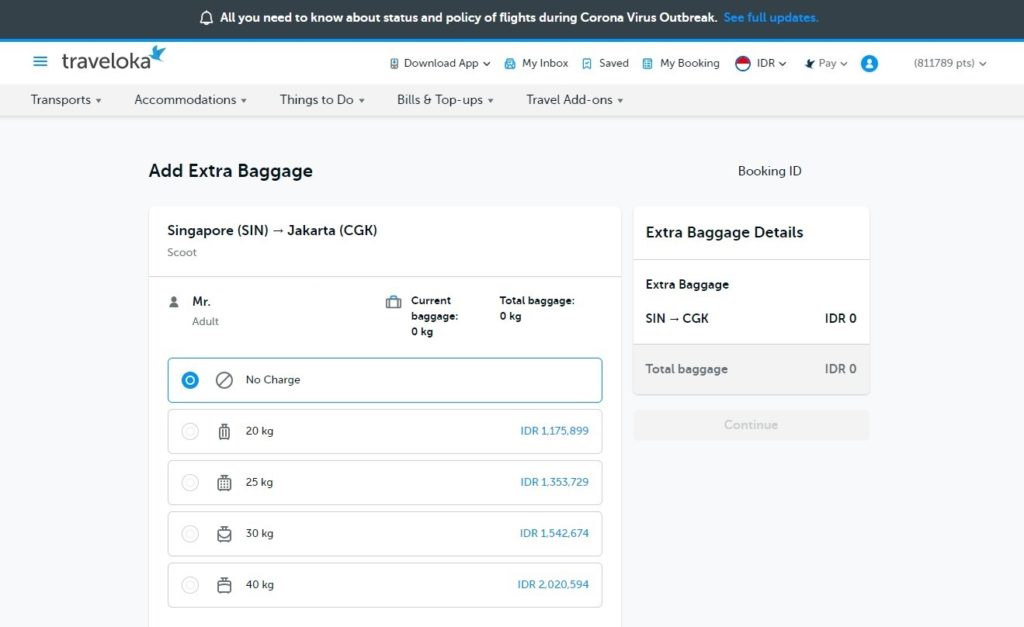 Baggage Allowance That Suits Your Needs No more rearranging your stuff at the airport to avoid additional baggage charges. Whether you are in the middle of booking your flight or already have an e-ticket, you can now select your preferred baggage allowance at Traveloka. So get that travel checklist out and make sure to pack everything you need.
When traveling far for a long period of time, it's likely that we carry more baggage. We may even end up with more suitcases upon our return, thanks to all the souvenirs we bought for our friends and family. It is no wonder to find our baggage exceeding the limit allowed by the airline.
Airlines usually provide a free baggage allowance for each passenger. However, the amount can be different for each airline. Some may give a free allowance only for cabin baggage, some may give a free allowance for checked baggage. The free checked baggage allowance itself can differ between airlines, ranging from 15 – 35 kilograms per passenger, depending on the type of airline and the flight route.
However, since passengers often need an extra baggage allowance, many popular airlines offers Extra Baggage Allowances to their passengers. This is to prevent the high additional charge due to excess baggage. This extra baggage allowance is offered in packages, so passengers can buy it at a more affordable price compared to paying the excess baggage load per kilogram.
AirAsia baggage service, for example, offers packages of 15, 20, 25, 30, and 40 kilograms of Extra Baggage Allowance. The AirAsia Extra Baggage Allowance is available for their domestic and international flights, with varied prices depending on the route, schedule, and travel period.
Passengers can buy Extra Baggage Allowances prior to flying from the airline's website or application, or from online ticket booking services such as Traveloka. Extra Baggage can be purchased up to 12 hours before departure except for VNA, up to 24 hours, or at the same time during flight ticket bookings, depending on the policies of each airline. However, at Traveloka, passengers can buy the necessary baggage allowances together with their flight tickets.
So if you can anticipate that your baggage would exceed the free baggage allowance provided by the airline, buying an Extra Baggage Allowance as early as possible is always a good idea. This is also important to avoid inconveniences during your check-in process only because you have to pay an extra charge for your excess baggage.
By buying an Extra Baggage Allowance before your flight, you will be able to proceed through check-in smoothly. In addition, you will also feel comfortable throughout your flight even with a lot of baggage in tow.