Mobile Legends Rank Tiers
Ranks in Mobile Legends determines the players' proficiency and experience in the game. The better you are in the game, the higher you can climb the ranked ladder. There are two types of ranked systems in MLBB, namely the Stars system which applies up to Legend rank, and the Points system for Mythic and above rank. Players will have to earn the required amount of stars in each division in order to get promoted to a higher rank.
Top Global Rank February 2023
Wiky NAFILFORCE
HazeTzy.
ToYy
Paangqt
Jibon107
ACH1L3SS
Vokerr
Mogu
. Rast
JackFrozt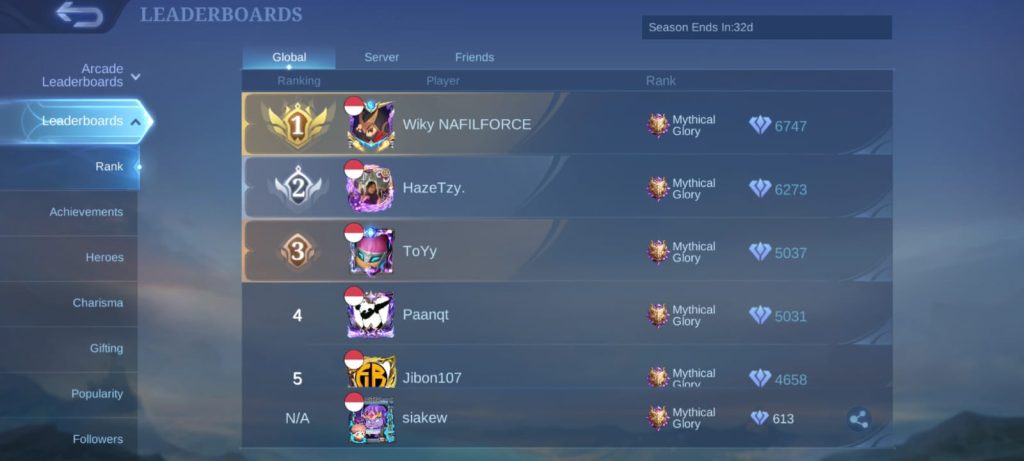 Players will be placed in one of the seven ranks based on their skills in the game with the Warrior being the lowest rank followed by the Elite, Master, Grandmaster, Epic, Legend, and the highest rank, Mythic.
Here is a full list of all ML tiers ranging from the lowest to the highest.
Warrior III
Warrior II
Warrior I
Elite IV
Elite III
Elite II
Elite I
Master IV
Master III
Master II
Master I
Grandmaster IV
Grandmaster III
Grandmaster II
Grandmaster I
Epic IV
Epic III
Epic II
Epic I
Legend IV
Legend III
Legend II
Legend I
Mythic
Glorious Mythic (Only top 50 players in each server)
References: Gosugamers